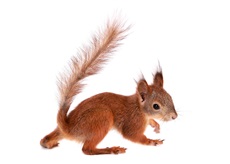 Pest Control for Squirrels in NJ
Forget "Ice Age's" Lenny the squirrel. These pests that have invaded your home are nowhere near as cute.
Squirrels and Fecal-Borne Diseases
Squirrels love to chew everything in your home, especially your attic walls, cable insulation and pipes. Many a squirrel has been known to start a fire with his teeth. Not only that, but they are fond of leaving their droppings and urine all over your attic, garage and lawn, which may spread salmonella and Leptospirosis to those who come in contact with it – both occasionally life-threatening infections. Like rodents, squirrelscarry parasites like fleas, mites and ticks into the house in their fur, which can be passed on to your household pets.

And it's not just the smell they leave. If you start trying to clean up the remains without a face mask, you can inadvertently inhale roundworm larvae. Never face one down yourself, raccoons can be aggressive and, as mentioned before, many of them carry rabies. Over 40% of the cases of rabies reported in 2006 were from raccoon bites.

Are Squirrels Destroying Your Home?
Some signs of squirrels in your home are:

Squirrels getting into your chimney or attic through newly chewed holes.
Scratching and running noises in attic space, especially at night.
Chewed electrical wire insulation and siding.
Holes in your yard, damage to garden plants and bird feeders.
Squirrel droppings.
Tried to Get Rid of the Squirrels?
Maybe you've trimmed your tree limbs, put away the bird feeders, fixed the holes in the attic and put up an electric fence, but they still keep showing up. You could turn the problem over to us. We have years of experience doing this kind of pest control, and our certified squirrel removal specialists are ready for your call.

Pest Control for Squirrels in NJ
First we bait and trap squirrels in the squirrel-occupied areas of your home. Once that's done, we focus our attention on preventative measures — we place more traps around your home, seal off entry points and give you tips on how to discourage their return. We believe MiteBuster's integrated squirrel removal system is the most efficient and cost-effective method you'll find in NJ. MiteBuster's squirrel removers in NJ know how to stop these pests from claiming your home as theirs.