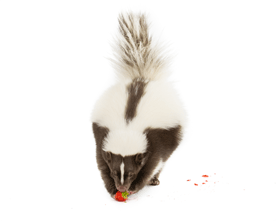 Pest Control for Skunks in NJ
Skunks know how to smell really bad. And it's not just one smelly supply per skunk; they always carry their 5-6 sprays worth and can regenerate the full amount every ten days.
Skunks and Diseases
Of all the rabies cases reported in 2006, 21.5% were caused by skunks. They are not normally aggressive, so if one seems so, it probably has rabies and you need it to be removed as soon as possible. Most predators avoid skunks, but house pets are not as savvy about what the little skunk is capable of, and many are the stories of dogs stinking for weeks from a negative encounter.

Are Skunks Bad?
Some signs of skunks near your home are:

Holes in the ground.
Skunks seen mostly at night.
Skunks in your trash.
Skunks mellow a lot in the winters, but they don't go into full hibernation mode. They can be somewhat useful in that they eat garden grubs, mice and the occasional mole, but the chances of your pets receiving a finely directed spray are high. Skunks also love your crawl spaces, open garage and shed doors and hollow trees; and if you have land with outbuildings, long grass and a henhouse with an ongoing supply of eggs, they will think themselves in Utopia.