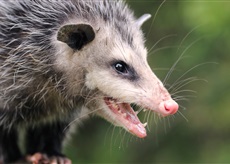 NJ's Possum Exterminators
Possum – a catlike creature that loves to live in your attic or in the walls of your home.
The Unpleasantness of Possums
Possums, while one of the more common mammals that stalk the neighborhood at night, are not dangerous to humans. In fact, they are more scared of you than you might be of them. However, they love to live in attics, under houses, and in walls or garages; and their feces can fill up an area quickly.

One of the most unpleasant things about possums is their love of roadkill – they'll eat the entire body and skeleton. They'll also kill local cockroaches and rats if they feel their food supply is threatened, all a service to humanity (unless they leave the rat's body to fester).

A female possum can produce up to 20 babies in a litter. Those babies will live for about two years once they reach adulthood, and the females will reproduce about once a year in our northern NJ climate. This means that despite local efforts to control the possum population, more are being added to the neighborhood every day.

Do You Have an Infestation?
Some signs of possums in your home are:

Noises around your bins at night as they rummage for food.
Brown stains in your ceiling from possum poop coming through the attic floor.
Pets bitten by them.
You will need a pest control specialist to remove them immediately, as their removal is not an easy process.