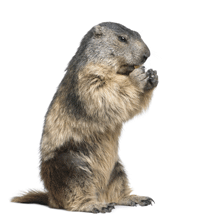 Pest Control for Groundhogs in NJ
Groundhogs, also known as woodchucks, know how to cause hundreds of thousands of dollars' worth of property damage. They dig substantial tunnels under your home, patio, garden shed or yard to live and hibernate in, and if the ground then gives way, your foundation goes with it.
Groundhogs and Diseases
Groundhogs are not only the cute cuddly things seen in movies; they have a bad side. They love to destroy vegetable gardens and strip your fruit trees. They can also carry hepatitis, roundworm and rabies, which can cause considerable danger to your pets and family should there be an encounter. While groundhogs don't go on the offensive, they stand their ground and have been known to lunge at home owners trying to catch them.
Are Groundhogs Destroying Your Home?
Some signs of groundhogs near your home are:

Holes in the ground big enough to fall into.
Groundhogs in the yard or in trees.
Chewed outdoor vegetation and wood.
Groundhogs like to hibernate in their burrows all winter and then emerge once the weather goes above freezing, so you probably won't see them through October-February. Once spring comes, however, the groundhogs treat your home like a vacation spot – they like to sun themselves on your fence or lawn, chew up your deck, and help themselves to your carefully grown tomatoes.