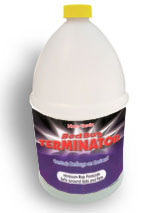 Mix 16 oz. of our concentrated Natural Cleaner with 1 gallon of water. Using the mixed solution of Natural Cleaner, fill up a 24/32 oz. spray bottle (Gallon jugs and spray bottles can usually be purchased at a local .99 cent store or supermarket).

Treatment:

Spray or mist roaches with diluted Natural Cleaner.
Poor construction can as well contribue to cockroach infestations so be sure all visible cracks and crevices are caulked. Caulk/seal every opening, crack or crevice you see cockroaches come out of. Caulk and Seal, Caulk and Seal!
Check under carpeting along edges. You will likely find infestations under the edges of your carpets; thoroughly spray all along edges and infestations with diluted Natural Cleaner, apply DE all along edges under the carpet.
Clean up and reduce clutter. Remove all paper bags, cardboard and infested fiberglass insulation. The less places they can hide in the better. If possible, replace all old wooden dressers and shelves with metal shelves.
Routinely clean, spray, mist or power wash with diluted Natural Cleaner. Clean inside all garbage cans and flood all garbage disposals, grease pits and all drains with diluted Natural Cleaner as needed.
You can steam vacuum or power wash all surfaces and cracks with Natural Cleaner. This will control and remove roaches, roach allergens and smell.
Lightly dust with food-grade DE along edges of the room and in any remaining cracks and crevices. Spray them with diluted Natural Cleaner.
Roaches come out at night so keep the lights off, use a red light and enter room at night and vacuum up all visible roaches. Repeat this and you will nock out most of the roach population in your home.
Create barriers using double-sided sticky tape. You can reduce most of your roach population this way. spray trapped roaches and dispose of the tape and recreate barriers.


Tips:

Modern cockroaches have a need for a warm, moist climate so be sure strong fans are left on 24 hours a day in all active areas. Install and maintain fans or air conditioners and/or dehumidifiers.
Maintain routine and thorough sanitation and proper food and garbage storage. Store unused portions of chips, cereal, cookies, flour, sugar, rice, etc. in tightly sealed plastic containers. Do not leave garbage or any food out at night! Do not leave pet food and bowls on the floor, clean up and sweep with diluted Natural Cleaner.
Fill holes where pipes connect into walls with steel wool or caulk (Foam insulation maybe the quickest and easiest way to do this).