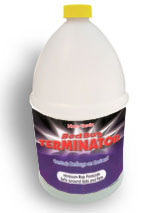 Treatment:
Knock off the top of the fire ant mound and pour 3 gallons of diluted Natural Cleaner with or without adding 4-5 tablespoons food-grade DE into the ant mound and surrounding area.
You may also follow up by boiling water and pouring into individual fire ant mounds. Approximately 3 gallons of hot water poured into each mound will eliminate about 2/3 of the mound's population.
Remove any food sources, debris, old equipment and regularly mow and trim grass. Lightly dust areas with food-grade DE where you want to keep them out.
Enhance effectiveness of the treatment by following up and soaking the soil around the mound with plain water or diluted Natural Cleaner.
Tips:
You must detroy the queen(s). On cool mornings in the summer, the queens are near the top of the mounds where it is warmer; as the day heats up the queens go deeper into the soil.
Talcum powder and/or medicated body powder will also control/repel fire ants. Also, don't forget to caulk, fill or seal off any openings or cracks in your building.