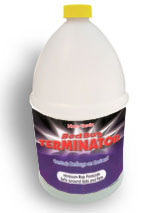 Mix 4-8 oz. of our concentrated Natural Cleaner per gallon of water. Using the mixed solution of Natural Cleaner, fill up a 24/32 oz. spray bottle (Gallon jugs and spray bottles can usually be purchased at a local .99 cent store or supermarket).

Improvement in indoor air quality is noticed immediately during and after cleaning.

Treatment:
Completely eliminating dust mites is almost impossible but regularly cleaning with Natural Cleaner will help greatly in reducing dust mite population and improving indoor air quality.
Spray all surfaces and air filters with Natural Cleaner as needed.
Enclose mattresses, pillows, and box springs in plastic.
Avoid sleeping with or keeping pets, especially cats and dogs. Wash often with Natural Cleaner. HEPA vacuum daily and wash your hands after petting your pet.
Routinely steam clean and/or mop and clean with Natural Cleaner. Houses severely infested with dust mites may require more cleaning with Natural Cleaner to reduce mite allergens to tolerable levels.

Clean any mold in the basement, bathrooms, kitchen, etc. with 2 oz. of Natural Cleaner per gallon of water.
Sanitize all mattresses with HEPA filterated vacuum system and spray light mist of Natural Cleaner to bedding and let try for 30 minutes prior remaking the bed and use.
Routinely wash blankets in 2 oz. of Natural Cleaner. Try to avoid blankets made of wool or down.




Tips:

Install a dehumidifier and/or air filter with UV killing mechanism.
Keep all clothing in closets with the doors closed and keep windows closed in the spring.