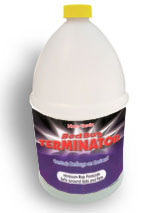 Suggested Dilution: 4 oz. of concentrated Natural Cleaner to 32 oz. of water. Using the mixed solution of Natural Cleaner, fill up a 24/32 oz. spray bottle (Gallon jugs and spray bottles can usually be purchased at a local .99 cent store or supermarket).

Treatment: Use Natural Cleaner on body and hair Relieves from itching, biting, stinging and redness quickly.
Apply diluted Natural Cleaner with a misting bottle, cotton ball or your hand.
Apply to skin 3 times a day. Morning, noon and night. Use as often as needed and do not wash off. Skin will feel calm and clean quickly after application.
Apply at night, before bedtime, as this problem seems more pronounced at night. Relief can be obtained by taking a soaking enzyme bath with Natural Cleaner. Simply pour 4 oz. or more (concentrated) into very warm bath water and soak for approximately 20 minutes. Use alone, without soaps, oils or other products in the bath water.
Use as a shampoo and massage into damp hair; Allow to remain for at least 5 minutes.
Spray and/or mist cracks, crevices, around window and door frames daily for several days. Persistence and patience will give the best results when using Natural Cleaner.
Safe to spray on all surfaces: carpet, bedding, walls, floors and furniture. Natural Cleaner may be used in the laundry and in carpet cleaning machines.
Pour 1 oz. of concentrate Natural Cleaner directly into wash load without detergent for a fresh clean laundry.


Tips: Natural Cleaner is safe to use in humidifiers. Pour 2 to 4 oz. into your humidifier for eliminating odors and controlling air born bacteria, germs and pests.