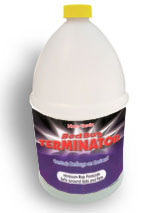 First, make a bed bug spray.

Mix 16 oz. of our concentrated Natural Cleaner with 1 gallon of water. Using the mixed solution of Natural Cleaner, fill up a 24/32 oz. spray bottle (Gallon jugs and spray bottles can usually be purchased at a local .99 cent store or supermarket).

Treatment:
Eliminate bedbugs by spraying bedbugs. Bedbugs will molt and perish in seconds!
Apply a light mist to the entire mattress and pay particular attention when spraying mattress seams, buttons and tears. Bedbugs are specially attracted to wood so don't forget to treat the bottom of the mattress, box springs and bed frame.
The objective is not in the quantity of spray used, but rather the proper placement of the enzyme cleaner. Spray Natural Cleaner into cracks, crevices and corners! Be thorough and reinspect.
Inspect and spray along baseboards, window frames, wallpaper edges, heat registers and other mouldings. (Re-glue all loose wallpaper and vinyl tiles)
Vacuum thoroughly, use vacuum attachments to clean cracks and crevices. Caulk or seal these openings permanently. If you have carpeting, steam vacuum all your carpets using mixed Natural Cleaner as your detergent.
Check behind pictures, drapes, wall sockets and even closets.


Tips:

Reduce clutter and please do not leave any cardboard boxes, wooden cases, wood or anything under your bed. Such items can contribute to being a hiding place for Bedbugs. A clean home makes it difficult for bedbugs to survive if they are limited to hiding places.
Bedbugs are well known for being travelors, you may have initially aquired Bedbugs by them crawling on your clothing. If possible, launder all your clothing, bedding and towels in hot water or hot air then dry them in hot air as well. Bed bugs are very sensitive to heat. The thermal death point for the common bedbug is only 111°F. to 113°F.; even lower temperatures of 97°F. to 99°F. will kill large numbers of these bugs. Raising the temperature for an hour or so can help eliminate most infestations.
Iron your mattress, especially the edges. Use hair dryer on high heat to 'blow out' tight areas such as ornate wooden headboards
They cannot crawl up smooth surfaces. Remove bedskirts if you have them. Coat legs of bed with light coating of Vaseline or Pam cooking spray oil. You can also place legs of bed in glass or plastic containers and pour small amount of Natural Cleaner in each container.
Encase your mattress! After treatment the mattress should be dried, and then covered with zippered plastic mattress covers before use.
ATTENTION APARTMENT/CONDO RESIDENTS: Poor Plumbing pipes and heating pipes can make your home susceptible to bed bugs as they may travel from place to place. Caulk or seal any space around pipes to prevent these travelers coming into your apartment/condo. (Foam insulation may be the easiest way to do this). Then vacuum and spray Natural Cleaner librally on all cracks, crevices and corners.


As it may be impossible to penetrate all hiding places, control may not be immediate and bugs may be seen for several days after treatment. Persistance and thoroughness is the key to permanent Bedbug control!