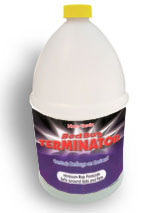 Mix 1 oz. of our concentrated Natural Cleaner with 8 oz. of water.


Treatment:

Apply directly on affected area with finger, cotton ball or q-tip. Massage diluted Natural Cleaner onto dry skin.
Repeat daily to ensure complete coverage; preferable morning, noon and at night before bedtime.
Continue using until symptoms no longer persist, usually 1 to 3 weeks, depending on the level of infestation.
Take a soaking bath, in the late afternoon or early evening, Natural Cleaner (Using 4 to 8 oz.). Do not use other soaps or products during this process. After body is completely dry, apply diluted Natural Cleaner to problem areas. Do not rinse. This soaking bath can be done daily.
Diluted solution can be applied as often as needed.


Tips:

Scratching an infected area and then another non-infected area on the body can easiliy transfer Scabies to other areas of the body.
For external use only. If contact is made with eyes, rinse thorougly with clean cool water. Can cause eye irritation. If skin irritation or infection develops consult your physician or dermatologist. Keep this an all cleaners out of reach of children.
Spray all floors and baseboards with Natural Cleaner.
Wash all linens and towels, use 1 to 2 ounces in a wash load.
Wash undergarments and other clothing in enzyme wash.
Place stuffed toys in a plast bag for 2 days.
Toss blankets and bedspreads in a hot dryer for 20 minutes.
Vacuum thoroughly, daily if necessary


Prevention:

Regularly change and wash all clothing, bedding, towels and underwear.
When laundering towels, clothing and bedding use hot water and enzymes.
Children should not share clothing or other personal articles such as hair brushes, combs or towels with one another.
When an outbreak of scabies is reported be alert for symptoms in members of your family.
If your child has scabies, please notify the school authorities so the school will be alerted to check for any outbreak.