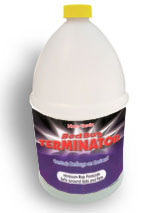 Mix 16 oz. of our concentrated Natural Cleaner with 1 gallon of water. Using the mixed solution of Natural Cleaner, fill up a 24/32 oz. spray bottle (Gallon jugs and spray bottles can usually be purchased at a local .99 cent store or supermarket).

Treatment:
Frequently launder and clean pet bedding weekly with Natural Cleaner. Clean furniture and rugs where pets commonly inhabit, in hot, soapy water and dry in a clothes dryer with high heat or direct sunlight.
Vacuum or Steam vacuum carpets with MiteBuster's Natural Cleaner (mixed 8 oz. per gallon of water) thoroughly for 2 weeks. Use Natural Cleaner to clean and remove lint and dust around baseboards and cracks where flea eggs and larvae accumulate.
Wash frequently using MiteBuster's Natural Cleaner. Most research shows adult fleas rarely leave the host; the second environment is the carpet/floor or nest/burrow which contains the majority of the flea eggs, larvae and pupae. You must treat both environments thoroughly and persistantly to control the flea infestation.
Mop floors with 4 oz. per gallon or spray floors 4 oz. per gallon of Natural Cleaner.
Use a hose-end sprayer and spray yards and crawl spaces with 4 oz. per gallon Natural Cleaner to control outside flea sources.

Note: 90% of opossums in urban Midwest areas are infected with fleas. Hot and dry summer temperatures normally prevent fleas from developing; only shady and moist areas need to be sprayed.



Treatment for Pets:

Wash pets with Natural Cleaner (4 oz. per quart) as needed. Stand your pet in a container and soak them with warm water. Dilute 4 oz. of Natural Cleaner into 32 oz. of warm water to make pet shampoo. First, clean hair around neck and hind quarters to prevent fleas traveling to these areas then clean down remainder of pet's coat. Take extra care and avoid applying solution in eyes. Natural Cleaner is safe to apply to puppies and kittens with fleas or mange.
Using a brush or your hands, gently massage Natural Cleaner over the entire body of your pet and leave on for approximately 3 minutes then completely rinse off with warm water and fleas/ticks will wash away.
Tips:
Eliminate vegetation that will harbor rodents or any native mammals. Prevent pets from resting under the building, and exclude wild mammals by screening attic and eaves entrances. Thoroughly clean furniture in areas that pets tend to frequent and use.
Today fleas are common in all parts of the country except very dry areas (so install a dehumidifier).